HULU PROJECT – 1997-2008
Sound Art / Cross Cultural / Shamanic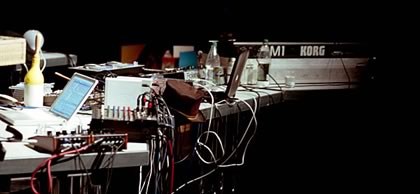 Die Musik von Hubl Greiner und Luigi Archetti spricht eine ureigene Sprache. Zwischen 1997 und 2009 sind 4 CDs erschienen.
INEMURI
(CCn´C Records 2008)
Luigi Archetti, Hubl Greiner
"Inemuri" nennt man in Japan die Kunst überall und jederzeit ein Nickerchen zu machen. Dabei wird im öffentlichen Raum, z.B. während einer Konferenz oder in der U-Bahn geschlafen. Die Japaner trainieren diese Art der Entspannung bereits in der Kindheit, sodass sie die Umgebung trotz des schlafens noch wahrnehmen. Das Wort Inemuri bedeutet "anwesend sein" und "Schlaf". Luigi Archetti und Hubl Greiner haben sich die Frage gestellt, wie diese Schlafenden die sie umgebenden Klänge wahrnehmen und welche Klänge dabei in ihren Träumen entstehen können. Das Album "Inemuri" versucht die Klänge zwischen Traum und Wach sein zu beschreiben.
"Inemuri" in Japan is the art of taking a nap anywhere, anytime. This involves sleeping in public spaces, e.g. during a conference or in the subway. The Japanese practice this kind of relaxation already in childhood, so that they still perceive their surroundings despite sleeping. The word Inemuri means "to be present" and "sleep". Luigi Archetti and Hubl Greiner have asked themselves the question how these sleepers perceive the sounds surrounding them and which sounds can arise in their dreams. The album "Inemuri" tries to describe the sounds between dreaming and being awake.
TranceSiberia
(CCn´C Records 2001)
Luigi Archetti, Hubl Greiner, feat. Stepanida Borisova
Intensive schamanistische Gesänge aus der Republik Sakha (Sibirien) treffen auf westliche Klub-Kulturen. Hubl und Luigi lernen während einer Russland-Tournee den BBC-Journalisten Misha Maltsev kennen. Er vermittelt später den Kontakt zu der jakutischen Schauspielerin und Sängerin Stepanida Borisova. Nach mehr als 3 Jahren Arbeit erscheint das Album "TranceSiberia" auf dem Label CCn`C Records. Die CD wurde mehrfach ausgezeichnet und war auf Platz 3 der "World Music Charts Europe".
Intensive interpretation of shamanistic singing from Sakha (Siberia), combined with todays western club-culture – from tradtional and mystic essays, ritualistic ceremonies to modern urban forms. Hubl and Luigi meet BBC journalist Misha Maltsev during a tour of Russia. He arranges the contact to the Yakutian actress and singer Stepanida Borisova. After more than 3 years of work the album "TranceSiberia" is released on the label CCn`C Records. The CD was awarded several times and made it to number 3 in the "World Music Charts Europe".
CUBIC YELLOW
(Catptain Trip Records Japan 1999 / CCn´C Records 2008)
Luigi Archetti, Hubl Greiner
Gastmusiker: Dieter Moebius (Cluster)
"CUBIC YELLOW" – eine Synthese zwischen Tönen und Farben. Basierend auf einer intuitiven und improvisatorischen Arbeitsweise wurden die Soundtracks mittels präparierter akustischer Instrumente (E-Gitarre, Viola, Schlaginstrumente, etc.) und verschiedenster elektronischer Apparatur (Sampler, Laptop, Synthesizer etc.) eingespielt. "CUBIC YELLOW" wurde im Mai 2000 mit dem "Selection Swiss Radio International" ausgezeichnet.
"CUBIC YELLOW" – a synthesis between tones and colours. Based on an intuitive and improvisational working method, the soundtracks were recorded with prepared acoustic instruments (e-guitar, viola, percussion instruments, etc.) and various electronic equipment (sampler, laptop, synthesizer, etc.). "CUBIC YELLOW" was awarded the "Selection Swiss Radio International" in May 2000.
CHAT
(GECO Wien 2000)
Luigi Archetti, Hubl Greiner, Eric Babak, Lisa Cash
"Eine exotisch-archaische Platte, ein Stück Avant-Pop oder souliger Trip Hop, irgendwo zwischen Moloko und Tricky", mit Lisa Cash, der ehemaligen Sängerin von Consolidated, einem DJ, einer Harfe und einer Oboe."
"Soulful trip hop, somewhere between Moloko and Tricky", with Lisa Cash, a DJ, a harp and an oboe.